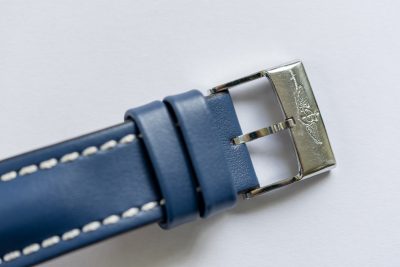 Breitling Navitimer Cosmonaute A22322, "125th Anniversary" Limited Edition 308/1000
£4750
In 1962 the space race was well and truly underway. Already a supplier to civilian and military aviation, Breitling naturally took a keen interest in this new human endeavour.
On May 24th 1962, the astronaut Scott Carpenter tested this instrument watch under real-life conditions, during his inaugural orbital flight aboard the Aurora 7 space capsule; which allowed Breitling to claim the Cosmonaute was "THE FIRST WRIST INSTRUMENT TO SHARE IN THE CONQUEST OF SPACE".
Admittedly, this was a little too long to put on the case back, and Omega really stole the show with "The first watch on the "MOON". That's a Top-Trumps winner!
Based on their famous Navitimer Pilots chronograph, the Breitling technicians developed the Cosmonaute, a space-going version indicating 24 hours in a single sweep of the dial. Given the relative nature of day and night in space, this configuration prevents possible confusion between midday and midnight, after all, there is no night or day in space. Time and 24 hours are human constructs!
Although the silhouette of the watch is most certainly attractive, the main appeal lies in the dynamic dial. First, we see the 24 hours, as per astronaut Carpenter's request. Running around the periphery of the dial is the Navitimer's hallmark slide rule, while a trio of registers is placed at 3, 6, and 9 o'clock. Right under the Breitling logo is the "Cosmonaute" label, signalling that this is, in fact, the Navitimer specifically modified for space.
Technically speaking, 24-hour format watches aren't that tough to produce. It is really a matter of a few gears, with a few more teeth. The dial needs to have more hour indicators packed into it, and reading the time is of course, different than on a 12-hour dial, where you can usually mentally know the time, without seeing the indicators.
For its 125th Anniversary, Breitling issued a limited series of theIr Cosmonaute. Only 1,000 of these Cosmonaute watches were produced, and this is number 308/1000, and it is in great condition.
A new Hirsch Blue leather strap complements perfectly the Blue Black dial. The watch comes with its original inner and outer boxes; but just to say, the foam is beginning to degrade on the inner box, as they all do.
So, there you have it, a watch developed to sustain the rigours of space, with a "conversation-starting" dial and a history to die for. Rare too.
What's not to like!