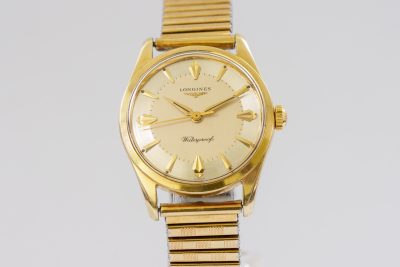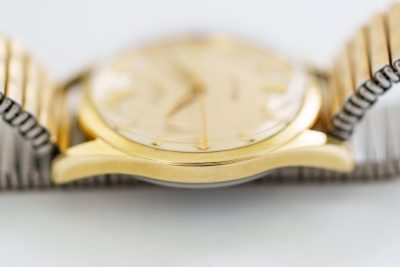 Longines Conquest 6738
Transport yourself to the sophisticated and elegant world of horology in the early 1960s. The Longines Conquest 6738 in rolled gold is a timepiece that encapsulates the spirit of this era. Its exquisite design and enduring symbol of luxury and refinement make it a standout among other watches of its time.
The Conquest 6738, a masterpiece by renowned Swiss watchmaker Longines, made its debut at a time when watchmaking was scaling new heights. Its exceptional accuracy, superior workmanship, and low-key appeal soon earned it a place of honour among watch aficionados and experts.
This Longines Conquest 6738 in rolled gold exhibits a captivating fusion of traditional style and robust durability. The watch's 35mm casing, which was skilfully fashioned from rolled gold, has a warm, lustrous appeal that harmonises nicely with the period's fashion sensibilities. The polished crown, gracefully curved lugs, and smooth bezel add to the watch's overall good looks.
The classic "pie-pan" dial, which has dauphine hands and golden hour markers, exudes simplicity and refinement. Except for the lume in the hands, which has discoloured and lost its shine as expected, both are in superb shape.
Underneath its svelte body is the Longines 23ZS, a premium manual wind movement made to withstand the test of time and the heart of precision. Given that it has just undergone a full service, it will continue to keep the correct time for many years, making it an excellent companion for watch enthusiasts.
Our specific Longines Conquest is shown on a stylish, period-appropriate "Fixo-Flex" extendable strap made of rolled gold, which perfectly matches the overall design of the 1960s watch.
The Longines Conquest 6738 has become more and more valuable and sought-after as the years have gone by. Its restricted manufacture and classic style have added to its appeal, earning it the status of a highly valued vintage watch. Each timepiece represents a split-second in time and tells a different tale.
This extraordinary timepiece serves as a reminder of the heyday of watchmaking, whether it is worn as a standout item of clothing or treasured as a timeless inheritance. Delight in the timeless elegance of our rolled gold Longines Conquest 6738 and own a piece of horological history if you ever stumble across this rare treasure (and you have!).
We work hard to ensure you are pleased with your purchase, both before and after the sale. Contact us to request any additional information.
Dispatch:
We aim to dispatch items within 1-2 days receipt of payment.
The delivery method can vary depending on the value of the watch. All watches are sent fully insured usually using UPS.
All watches sold without an original box will still be dispatched with a high quality presentation box.
Warranty
All timepieces purchased from us come with a guarantee of authenticity and our 12-month time-keeping warranty. Please note that accidental damage or damage to the item resulting from third-party repairs, improper handling, or liquid damage will void our warranty. We do not guarantee any of our watches to be waterproof.