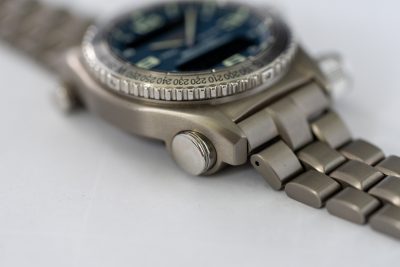 Breitling Emergency Superquartz E76321 – Blue Dial
£3500
Breitling Emergency Superquartz E76321 – Blue Dial
Why is it, when you are not allowed to do something, it's all you want to do? A little devil on your shoulder, whispering into your ear,
"Go on, do it, you know you want to. Do it…, do it…, …DO IT!"
And that is exactly how I feel when wearing a Breitling Emergency watch. I desperately want to pull out the antenna, just to see what happens. The fact that I couldn't afford the costs of the consequence of doing so, doesn't matter. I still want to do it… argh!
As I am sure you are aware, the Breitling Emergency watch was originally designed for pilots and aircrews. It is a unique watch; in that, it has a built-in micro-transmitter that broadcasts on the 121.5 MHz aircraft emergency frequency. It is designed to accompany the distress signalling equipment of any aircraft.
Following a crash, or when the devil on your shoulder gets the better of you, the 'Emergency' will broadcast a signal on which rescuers can home in on it. The transmitter is activated by unscrewing the large protective cap situated on the lower right lug (you can't miss it!) and pulling the antenna contained within, out fully. The transmitter signal has a range of approx. 160km over all terrains, with the assumption that the search aircraft is flying at an altitude of 6000m.
Basically, all available humanity will rush to your rescue. Undoubtedly, this is the ultimate tool watch, it does exactly what it says on the tin… "I have had a crash – get me out of here!
Apologies to "I'm a Celebrity", but I couldn't help it.
This particular Emergency was purchased new in June 2007 and has been more of a box queen than a daily beater, as can be seen from the almost unblemished case and bracelet. Micro-scratches are present but only really visible on the folding clasp. Being made of Titanium, it wears it well.
It was last serviced, by an Authorised Dealer in June 2021 so is working perfectly. Its functions are amazing and everything a globe-trotting pilot/adventurer would ever need.
The box and all its contents, including, an unopened VHS video (remember those?), screwdriver, batteries (new), antenna testing box and the polishing cloth are all present and correct. The inner Bakelite presentation box is showing the most wear with the inner areas and pad degrading more quickly than the rest.
Lots of paperwork comes with the watch; the International Warranty booklet, the Chromometer certificate, service invoice and guarantee cards. There are two extra bracelet links too. We will include a printed-out instruction manual too, as it looks like it is a complicated procedure at first glance, but it isn't actually that bad, just daunting the first time around.
We will have to notify Breitling of the transfer of ownership of this watch. After all, we don't want to have to pay your recovery costs, if you accidentally set the watch off!
Are you able to live with a little devil on your shoulder and resist his whisperings? If you are, this is the watch for you.
Please take this watch off me, before I do something stupid!
We work hard to ensure you are pleased with your purchase, both before and after the sale. Contact us to request any additional information.
Dispatch:
We aim to dispatch items within 1-2 days receipt of payment.
The delivery method can vary depending on the value of the watch. All watches are sent fully insured usually using UPS.
All watches sold without an original box will still be dispatched with a ChronoDuo presentation box.
Warranty
All timepieces purchased from us come with a guarantee of authenticity and our 12-month time-keeping warranty. Please note that accidental damage or damage to the item resulting from third-party repairs, improper handling, or liquid damage will void our warranty. We do not guarantee any of our watches to be waterproof.