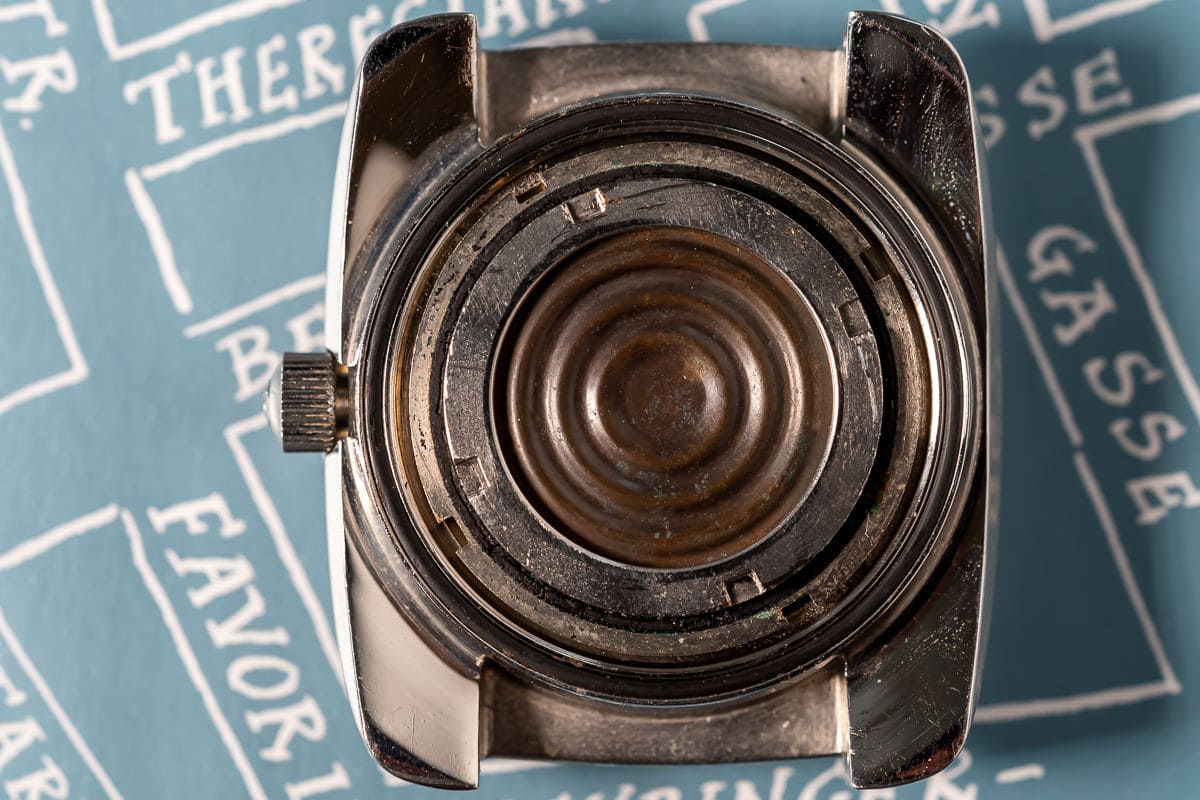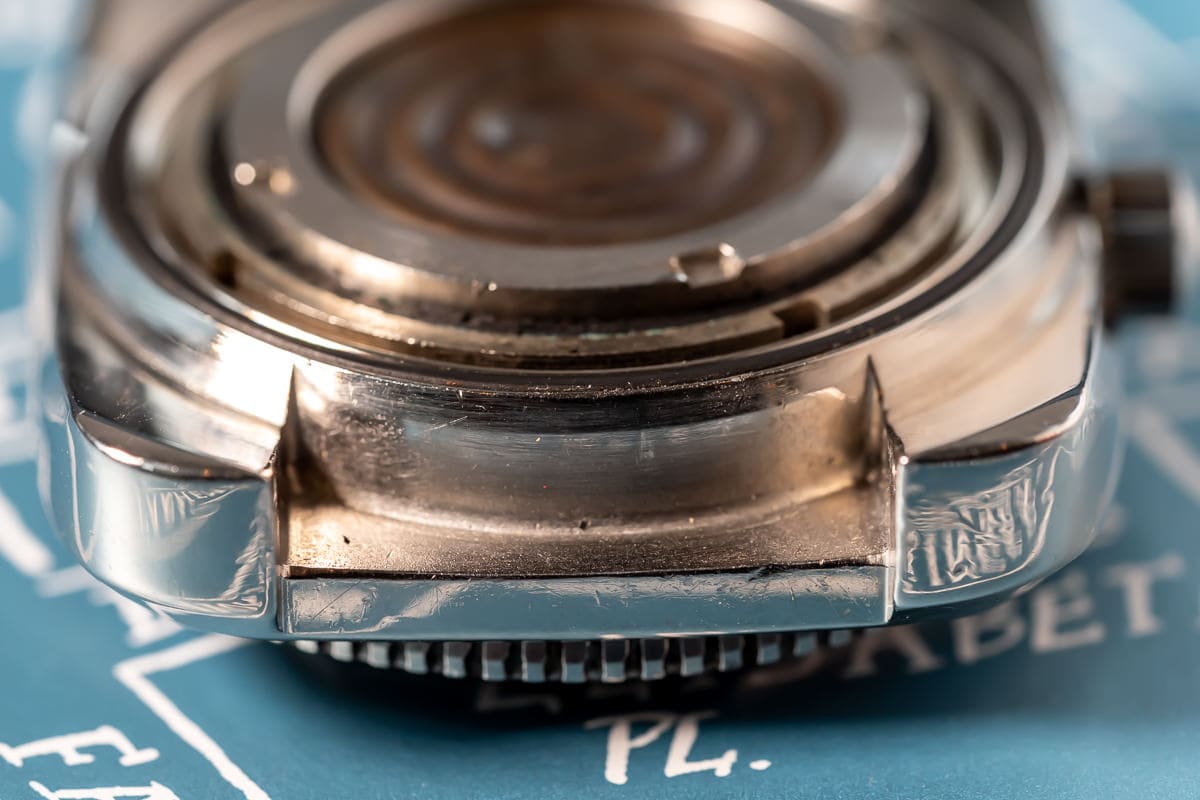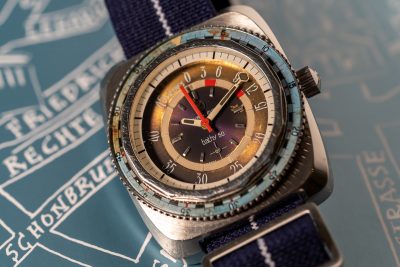 Favre-Leuba Bathy 50 Divers Watch
£2750
Here is a grail for dive watch fans, the 1960s Favre-Leuba Bathy 50 Divers Watch in what was once deep ocean blue. As you can see from the pictures, this Favre-Leuba Bathy 50 has had a hard, but proper life in the Sun! Before we get to this superb Bathy; a little background history…
Following Favre-Leuba's success with their range of "Bivouac" Mountaineering watches, it was an obvious next-step to employ the same principles of the Aneroid Barometer to record a diver's depth underwater. In 1968, Favre-Leuba introduced the Bathy 50, the world's first mechanical wristwatch that displayed not only dive time but also the current depth of the dive.
Two models were introduced, both the same but one measuring the depth in meters and the other in feet (to 160ft). This example measures the depth to 50 meters, so was suitable for both professional and recreational divers alike.
This beast is not for the faint of the wrist, measuring 43mm across, excluding the signed crown, by 48mm from lug to lug, it is a watch that will get noticed. The case has a few minor scratches and dings throughout, nothing major, nothing to detract from the immense appeal of this classic.
What was once a Cerulean Blue dial; has bleached in the sun to a dark purple at its centre, with the outer depth gauge scale fading from deep chocolate between 4 and 10 o'clock to a bright brassy tone between 10 & 4. Originally owned by a gentleman who lived in New Zealand; undoubtedly, he lived with his back to the sun!
A diaphragm inside the case transmits the pressure changes underwater to the red hand of the depth gauge, indicating the diver's depth on the outer dial scale. On the ascent, a red scale between 12m & 9m, and 6m & 3m on the dial supports the diver in keeping within the necessary decompression times.
The numbers and hands of the Bathy 50 originally had Tritium Lume, so that they were easy to read without error even in poor visibility. However, the passage of time has turned the Tritium into a dull dark green which perfectly matches the dial.
Dive time can be adjusted and monitored using the bi-directional rotating bezel with 60-minute graduations and the minute hand. This Bathy 50's bezel is also original to the watch and has been bleached to a pale blue. It does have some foxing beneath it, as can be seen at the 5-minute marker and between 45 & 50 minutes too. However, this is a 50-year-old watch, so a few battle scars are to be expected.
This watch features a proprietary movement that Favre-Leuba developed with Peseux, a highly regarded manufacturer that made some of the finest time-only movements during this era.
So, there you have it.
This is a perfect watch for someone who wants a vintage watch with a chunkier look and feel, that is akin to some modern dive watches, but with much more style and originality!
We work hard to ensure you are pleased with your purchase, both before and after the sale. Contact us to request any additional information.
Dispatch: We aim to dispatch items within 1-2 days of receipt of payment.
The delivery method can vary depending on the value of the watch. All watches are sent fully insured usually using UPS.
All watches sold without an original box will still be dispatched with a ChronoDuo presentation box.
Warranty: All timepieces purchased from us come with a guarantee of authenticity and our 12-month time-keeping warranty. Please note that accidental damage or damage to the item resulting from third-party repairs, improper handling, or liquid damage will void our warranty. We do not guarantee any of our watches to be waterproof.