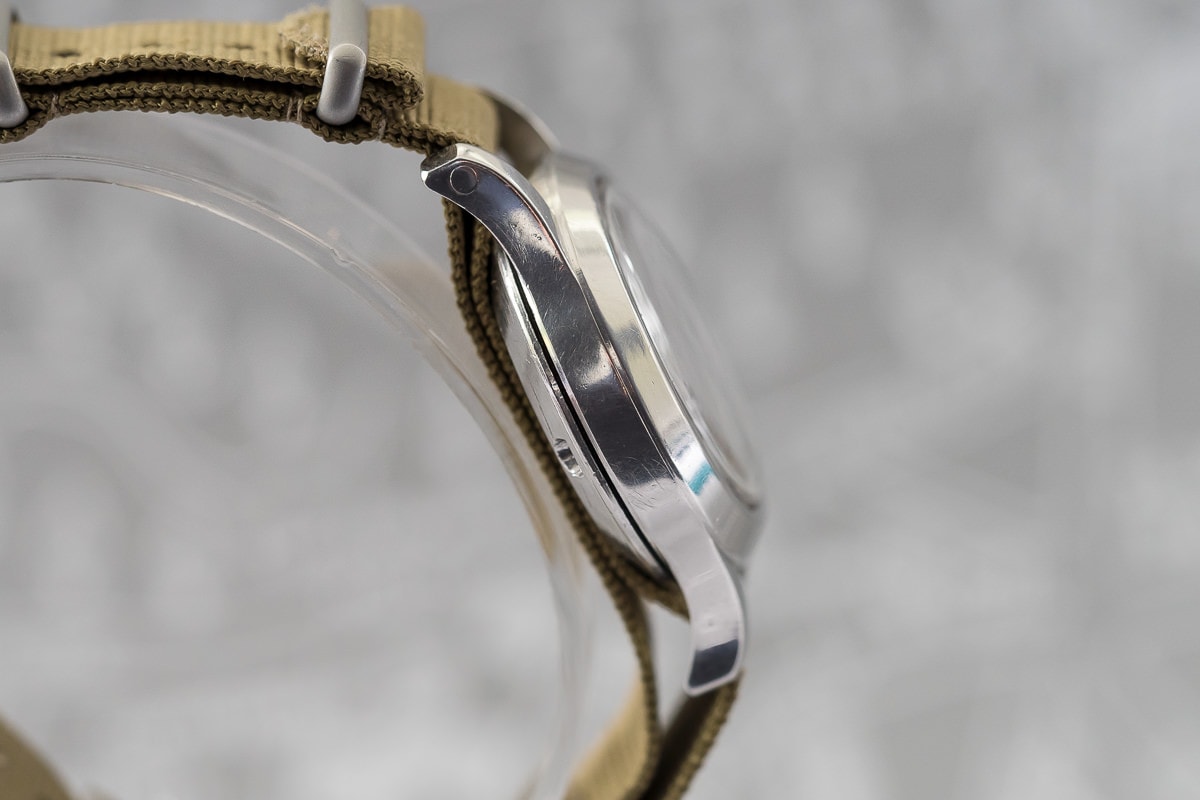 Jaeger-LeCoultre Mark XI Navigators Watch
£9495
This is special. Very special. There is in the watch collecting world a dedicated group whose primary focus is on collecting military wristwatches.
The Jaeger-LeCoultre Mark XI is one of the most sought after and iconic watches within that genre. And this particular example shows why it is such a desired and important watch.
Why?
Well, there is tons of information on the internet about this watch (most notably on the fantastic site markeleven.com), but this will help you understand how excited we were when we found it, unloved and listed as a ladies watch in a small provincial auction in the U.K. It has since been restored by one of the country's foremost watchmakers and is thus a perfect example of why so many love military watches.
During WWII, the British Armed Forces,and in this case, The Royal Air Force, required a reliable and tough watch for its aircrews.
Britain formally adopted the US-made A-11 (under MoD Specification 6B/234) in 1942. The A-11 was made by Bulova, Elgin, and Waltham, with a somewhat generic specification, with a number of small variations between the three main models. They all share the characteristic of having central seconds, hacking seconds, and a  black dial with arabic numerals.
The A-11 was a rugged and reliable, and did sterling service during the war. However, it was something of a compromise in that true chronometer-grade performance was not a given with any random example. The hacking feature mitigated this somewhat, of course, and the watches destined for actual astro-navigation use were hand-picked from the most accurate examples.
After the war the UK MoD set out to improve things, and issued the 6B/346 specification in late 1946 or early 1947. The specs called for a watch which was, on the surface, very similar to the A-11. The main difference is that chronometer-grade performance was specified, along with anti-magnetic properties.
More commonly known as the "Mk.XI" or "Mk.11," the 6B/346 design reflected lessons learned during the war, and was much larger watch than most of the wartime 6B wristwatches. Averaging 36mm in diameter, it was larger than its American counterpart the A-11. All Mk. 11 wristwatches were Swiss made to specification — unlike the 6B/159 and 6B/234 which had included anything suitable for navigation that was available. As a necessarily high-accuracy navigation timekeeper, all 6B/346 watches received short Observatory trials before being issued.
Its characteristic soft-iron dial, was specified to be matte black, marked with white Arabic numerals 1-12, and with white indices excepting those at the cardinal 3, 6, 9, and 12. Protected by a shatterproof Perspex acrylic crystal, the dial formed part of the soft-iron inner case or dust cover which protected its large 12 ligne movement from magnetic fields. Some say that the Mark XI was the first wristwatch designed from the outset to give this level of anti-magnetic shielding. The hand-wound watch was expected to be water-resistant to 20 feet, including water-resistance under low-pressure at operational altitudes. We have not tested it in either case!
The 6B/346 Mk XI "Navigator's"was produced by two companies, Jaeger-LeCoultre (JLC) and International Watch Company (IWC), and went on to be issued to RAF and RAAF forces from 1948 to 1953.
Behind the simple dial sits one of the most beautiful movements, certainly in a military piece.
The JLC caliber 488 SBr movement is a 12.5 ligne, 16-jewel work of art featuring Glucydur balance, Breguet-type Nivarox hairspring, non-magnetic curb pins, and amazing finishing. This movement was specific to the 6B/346 watches, whereas the caliber 89 used by IWC was used in many other watches.
The case is full stainless steel (or "StayBrite" as JLC called it), the caseback threaded (note the four spanner notches vs. the more common 6), with the physical dimensions being 35.3 mm w/o crown, 43.5 mm across the lugs, 12.6 mm thick, with 18mm lugs and a Perspex (acrylic) crystal.
The caseback markings on this example place it as S/N 3292, with a movement serial number of 594867.  This means our particular Mk XI was part of the third batch of watches ordered by the MOD on the 24th January 1949; and it was likely therefore to have been issued in 1949. The total number of Mark XI's came to 2950 between 1948 and 1953 so it's no surprise how few in great condition still survive.
The exact retirement date of the Mk XI timepieces is also lost in time. Made for only five years and used for around 25 years, it would seem that the phase-out began in the mid 1970's, and was complete by the end of the decade by which time modern GPS navigation technology had taken over.
To this beautiful example.
It has a second generation broad arrow dial and pointed hands combination, the standard RAF caseback and fixed lugs. The case whilst worn and with scratches, retains its light satin finish. The dial has aged hour markers but the numerals are now clean and bright. The matte black dial has also stood the test of time.
We have had it very carefully and sympathetically cleaned and serviced. For example, it still has its original unsigned crown. Some surviving examples have signed crowns, and these appear to have been added during field refits. If you look at the photograph of the movement taken as the service had been completed, you will be able to see the beautiful condition of this such highly regarded movement.
Likewise we did not replace the crystal. Yes it would be easy to fit a new one, which would show of the aged dial and hour markers more easily, but we decided to just remove the worst scratches with the lightest of polishes. And now, of course, the watch runs perfectly, keeping good time (especially for a 71 year old watch!) whilst being comfortable to wear. To complete things, we are selling the watch with  a Khaki NATO (see photos) and new brown leather NATO style G10 Service strap from vintagewatchstraps.com.
For many collectors of military watches, this is a grail piece. These are increasingly rare and are not seen for sale very often. So, if this watch speaks to you (and if you love watches, it should!), now's the time to add it to your collection.
We work hard to ensure you are pleased with your purchase, both before and after the sale. Contact us to request any additional information.
Dispatch: We aim to dispatch items within 1-2 days of receipt of payment.
The delivery method can vary depending on the value of the watch. All watches are sent fully insured usually using UPS.
All watches sold without an original box will still be dispatched with a ChronoDuo presentation box.
Warranty: All timepieces purchased from us come with a guarantee of authenticity and our 12-month time-keeping warranty. Please note that accidental damage or damage to the item resulting from third-party repairs, improper handling, or liquid damage will void our warranty. We do not guarantee any of our watches to be waterproof.