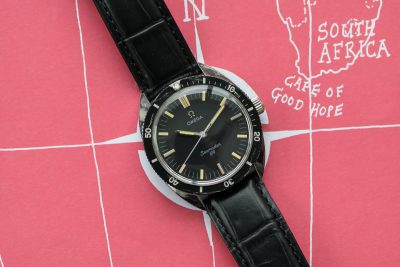 Omega Seamaster 120 Divers Watch Ref 135.027
£1995
Omega Seamaster 120 Divers Watch Ref 135.027. Underdog certainly, but is this an Omega "Smart" watch?
The Omega Seamaster 120 has always been the underdog to the higher specified and "Flagship" of the Omega range of Dive Watches; the Seamaster 300. But does that make it the Omega "Smart" watch?
Smart?
Yes, "Smart" in the "SmartWatch" to buy right now!
Jacques-Yves Cousteau invented the Scuba unit in 1943 and it soon caught the imaginations of wealthy individuals looking for their next adventure. Omega introduced the Seamaster 120 in 1966 to provide these enthusiasts with a dedicated purpose "Tool" watch that was designed as a working instrument for use in this new pursuit. The "120" refers to its depth rating of 120 metres.
The fact that its design mimicked its 300m bigger brother is no bad thing. Yes, it isn't quite as robust. Yes, it's only rated to 120m rather than 300m and yes, it's bezel isn't quite as thick; but other than that the genetic makeup of the 120 is very very similar. Why then is the 300 so much more expensive (currently 2-3 times!), it just doesn't make sense.
In our opinion, this makes the Seamaster 120 the "SmartWatch" to buy right now. Is a vintage watch collector (like you!) worried about depth ratings? Will you expect to use the watch whilst diving – of course not! Seamaster 120's offer almost everything to be found in the 300, but for a lot less money. Now that's smart.
Our example has a serial number of 26640720 which dates it to 1968. It is in great condition throughout with minimal wear and minor scratching to the case and bezel. Finding another in the condition that this one is, would be an uphill struggle, without a doubt.
The "matt" jet black face is unmarked and very obviously it's original. The five-minute "Tritium" markers have turned to a lovely cream colour, which is matched by the hands perfectly. Both have minimal foxing and this is only visible when using a 10x Loupe. Similarly, the second's hand is presented in the same white as the remaining printing to the face, namely, "Omega", "Seamaster 120", "T Swiss Made T" and the minute markers. It has clearly spent most of its life unworn and kept safe in a dark environment. Draw Queen anyone?
Another remarkable feature of our particular watch is its bezel. Again, it is in amazing condition. It moves freely and bi-directionally as it should with minimal wear. These anodised bezels are notoriously fragile. They scratch really easily and are quickly affected by the oils in one's hands. Ours has scratches (near the 10 and 50-minute indicators) and is starting to show wear on its coin bezel edging between 12-2 and 6-8. Exactly where you would expect it to wear if someone was wearing the watch on their left wrist and adjusting it with their right thumb and forefinger! It still retains its luminous Pearl, although, under a 10x loupe, it does show it's been scuffed. The bezel rotates easily bi-directionally.
Many vintage watch collectors say that condition is everything. This cannot be more true when looking at a 120's bezel. The condition of the bezel almost determines the value of the particular watch you are looking at. Take a look at some of the other Omega Seamaster 120s for sale to see what they can end up looking like with a heavy-duty life behind them. There is "patina" and then there is "needs replacing"!
The Omega "happy feet" logo is centre stage on the crystal, as it should be. The crystal is showing a scuff mark to its edge at 11 o'clock but doesn't show when wearing it. There are minor scratches to the crystals face overall and has been lightly polished to minimise these.
The Stainless Steel case is sharp and crisp with no signs of having been polished. There are some light, but visible scratches, to the left and right sides of the case, which could be polished out if desired. However, it's only original once, so we have let be. The crown too is crisp and retains its Omega logo.
Externally, the threaded case back is signed "Seamaster 120, Waterproof" around a rendition of the Seamaster Seahorse emblem. Internally, the case back has an engine-turned pearled pattern. There is the signature "Omega Watch Co, Fab Suisse, Swiss Made, Acier Inoxydable" (the French term for stainless steel) and the model reference 135.027. Beneath the model reference inside the case back is the tiny coded mark of case maker Erwin Piquerez SA of St. Hubert, 2854 Bassecourt. Many newcomers to vintage watch collecting are surprised that none of the top tier Swiss brands manufactured their own cases, but this was indeed so. Instead, they commissioned these from a number of entirely independent suppliers who specialised in this field. While slightly off-topic, it is worth noting the curious fact that no case maker worked exclusively for one movement maker, instead preferring, probably wisely, to hedge their bets and supply a variety of customers. So, for instance, it is entirely commonplace to find, say, vintage Rolex and Omega cases marked by the same manufacturer, or housings signed with the prestigious names of IWC, Heuer and Longines that carry identical makers' marks.
This great watch is complemented by a new Omega black leather strap but retains the original buckle.
So there you have it, a very "SMART watch" indeed.
We work hard to ensure you are pleased with your purchase, both before and after the sale. Contact us to request any additional information.
Dispatch: We aim to dispatch items within 1-2 days of receipt of payment.
The delivery method can vary depending on the value of the watch. All watches are sent fully insured usually using UPS.
All watches sold without an original box will still be dispatched with a ChronoDuo presentation box.
Warranty: All timepieces purchased from us come with a guarantee of authenticity and our 12-month time-keeping warranty. Please note that accidental damage or damage to the item resulting from third-party repairs, improper handling, or liquid damage will void our warranty. We do not guarantee any of our watches to be waterproof.