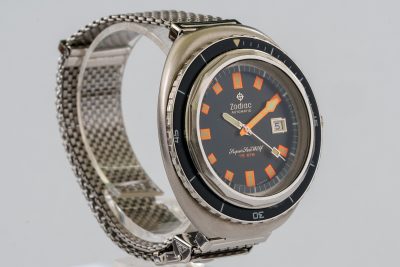 Zodiac Super Sea Wolf 722.936
£3250
Zodiac Super Sea Wolf 722.936, calibre 72B (base AS1687)
Many people rank the Zodiac Sea Wolf with the Blancpain Fifty Fathoms, the DOXA Sub 300, and the Rolex Submariner as one of the first timepieces made specifically for diving. The Zodiac Super Sea Wolf was designed to be THE watch for professional divers.
Zodiac used a function-first approach with the Super Sea Wolf, it being the first watch specifically designed and engineered exclusively for the "Super-Saturation" diver. Zodiac guaranteed the Super Sea Wolf to withstand external pressures of 75 ATM or 2442 feet, significantly more than Rolex or Blancpain could claim!
Finding one of these timepieces in this condition is very rare because they were designed with a specific function in mind and were effectively used for that reason. Unquestionably, this example has had a life, just like any extreme tool watch should expect, but it is all original.
Zodiac divers from the '60s and '70s feature some of the most vibrantly colourful designs that you will find in vintage watch collecting. This "BLAZE-ORANGE" as described by Zodiac, orange-accented example, which has lots of character, is no exception.
Both the minute hand and 5-minute markers retain their original "BLAZE-ORANGE" hue, which has mellowed very nicely over the years. The lume on both hands and dial shows discolouration and foxing commensurate with the age of the watch and has lost most of its glow, but that is right for a Tritium dial of this age. The recessed crystal is showing minor scratches on its face, but these are not bad and certainly not worth changing the crystal for.
The sturdy tonneau-shaped (oh, so 70s cool!) sand-blasted case has done its job well. The Zodiac Super Sea Wolf is comfortable to wear despite its enormous proportions of 43 x 49mm; somehow, it feels smaller on the wrist. Yes, there are dings and scratches to it, and these are negligible, and doesn't it look "just right" being so? Similarly, the tetra decahedron (that's 14 sides!) screw-down upper ring shows the same wear but still functions as when it was made.
The Bakelite inlay in the rotating bezel is in superb condition, with just a small mark or hole in the black underside of the insert at the 20-minute marker and light staining at the 25-minute marker. More importantly, with Bakelite, no cracks!
The way the bezel functions is quite intriguing and different from most dive watches of this period. The bezel must first be pressed down before it can be turned bi-directionally. Between the case and bezel, there is space with a spring between, which locks the bezel to the set time. Thus, it would be possible to prevent an unintended bezel adjustment while submerged. The first 10 minutes on the bezel are highlighted and divided into individual minutes, and the triangular luminous "pip" is still in place at 12 o'clock.
The in-house automatic calibre 72B movement, with a quickset date, powers the Zodiac Super Sea Wolf. The automatic mechanism was a joint development between Doxa, Eberhard, Favre-Leuba, Girard-Perregaux, and Zodiac. In the late 1960s, a beneficial complication like a quick set date was quite uncommon! The movement has been fully serviced and will tick away for many years to come.
Again, the case back is lightly worn, but all the engraving on the back is deep and legible. It is mounted on a new Forstner metal bracelet, keeping that retro vibe, but it does come with its original metal bracelet with the original Zodiac clasp too. This is a little on the short side, hence its replacement. It is presented in its original box as well, so what's not to love?
You may argue that the Super Sea Wolf is a steal when compared to similar-era Fifty-Fathoms and Submariner versions…
We completely concur, and we are thrilled that this outstanding example is up for sale!
We work hard to ensure you are pleased with your purchase, both before and after the sale. Contact us to request any additional information.
Dispatch:
We aim to dispatch items within 1-2 days receipt of payment.
The delivery method can vary depending on the value of the watch. All watches are sent fully insured usually using UPS.
All watches sold without an original box will still be dispatched with a high quality presentation box.
Warranty
All timepieces purchased from us come with a guarantee of authenticity and our 12-month time-keeping warranty. Please note that accidental damage or damage to the item resulting from third-party repairs, improper handling, or liquid damage will void our warranty. We do not guarantee any of our watches to be waterproof.